Tokun shuzo (Japanese sake brewery)
Tokun shuzo is the Japanese sake Brewery ,which was founded in 1825(Bunsei 8) by Uhei Ishige, it has been in business for more than 190 years.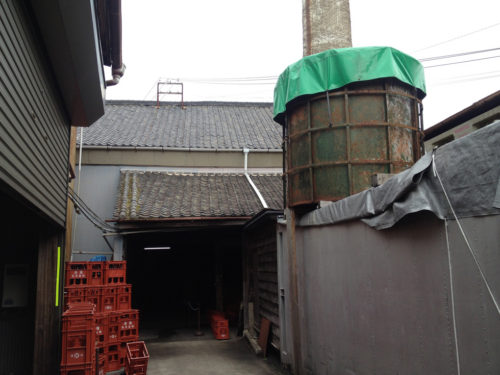 [Tokun shuzo]
In Sawara, there were many brewing shops like miso, soy sauce, sake and mirin (sweet cooking rice wine), and there were more than 40 brewery-related warehouse in Sawara alone. The reason why so many sake breweries used to be in Sawara was that producing sake was more profitable than any other brewing industries. Currently, there are only two breweries Tokun Shuzo and their neighbor, Babahonten Shuzo.
In Tokun Shuzo, NambuToji (master brewer) comes from Kitakami city in Iwate Prefecture and begins to brew sake around the middle of November.
Except for the Kampyokai (National New Sake Appraising and Deliberating Fair) ,they use locally-grown products such as "Fusanomai" , a rice cultivar for sake brewing.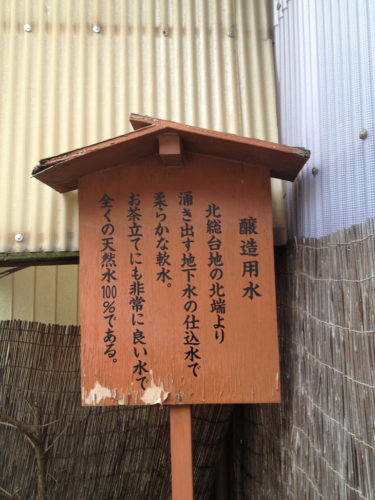 [Tokun shuzo's preparation water is groundwater of Hokuso plateau]
Also, they use Chiba prefecture-grown yeasts (Kobo). They actively brew sake by using many locally- grown products or ingredients.
Name of brewery :Tokun (東薫)
Establishment: 1825 (Bunsei 8) eight consecutive generations at the moment
Master brewer:Nambu *Toji ( Ishidoriya town,Iwate Prefecture based toji group)
*The term of "toji," refers to a person who supervises kurabito, a group of skilled workers responsible for sake brewing, and works as the chief executive brewer at a brewery.
Type of water using for brewing sake: mild softened water
Representative brands

Tokun daiginjo 「Kanou」「叶」
Tokun junmaiginjo 「Uhei no sake」「卯兵衛の酒」
Uhei no sake is produced from the land of Chiba's shuzo kotekimai (good rice cultivars for sake brewing),Chiba's yeast and Chiba's water. Uhei is the founder's name of this brewery.

Tokun ginjo「Futarishizuka」「二人静」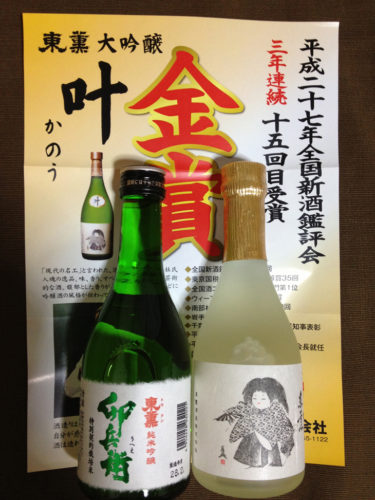 [Uhei (left) is brewed from Chiba's locally-grown products and its representative brand Kanou (right)]